$615,000
New Launch
NORTHPARK RESIDENCES
New Ionic Development In The North
18 Yishun Central 1, SINGAPORE
NORTHPARK RESIDENCES is an unique development. It is an integrated development where a large and new Shopping Mall and 12 blocks of 10 storey condominium will be built to cater the needs in the North and is located right opposite to Yishun MRT Station.
NORTHPOINT CITY & NORTH PARK RESIDENCES comprises of 920 units of Residential units & over 500 F&B and retails outlets. It will be the future biggest shopping mall in the northern part of Singapore. Yishun, being a mature estate in Singapore. With the ongoing plan, Yishun is set to transform in order to provide residents a better environment to live in. In NORTHPOINT CITY, there will be three exciting elements as follows:
•An Iconic mixed development in the north.
•Seamless connectivity right at the doorstep of Yishun residents
•Self-contained lifestyle in NORTH PARK RESIDENCES
When completed by 2018, NORTHPOINT CITY will be a self contained place where you could eat, shop, dine and a comfortable place to live in, all within your reach.
In addition, with the first integrated NEE SOON Community Center within the mall, bus-interchange, childcare centre, public library and open plaza, this make NORTHPARK RESIDENCES a gem worth waiting for!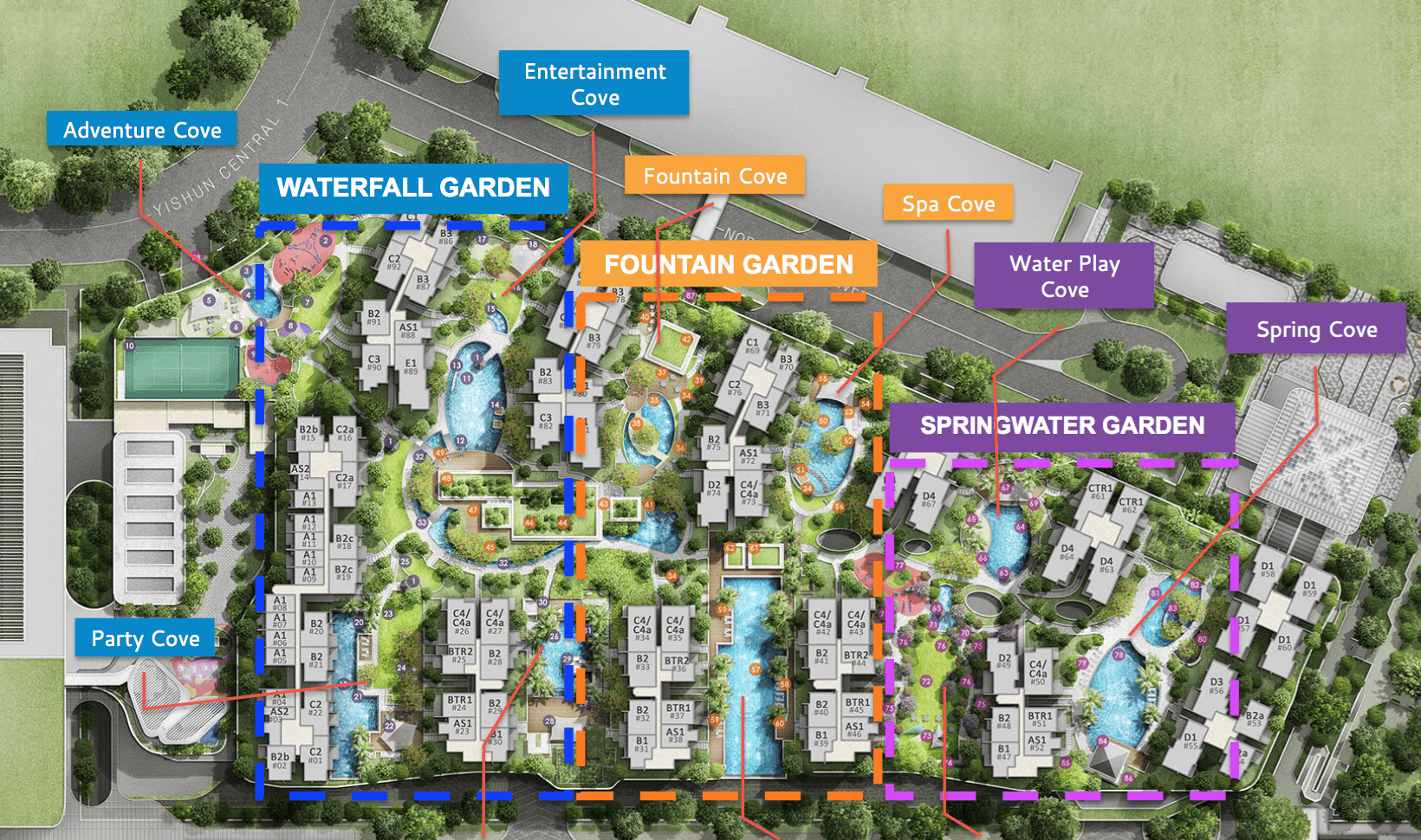 ---
Amenities
A Seamless Connectivity at your Doorsteps :
With the seamless connectivity, Residents from NORTH PARK RESIDENCES are able to travel to any parts of Singapore via MRT (existing North-South Line and future Thomson Line). There will be 23 Bus services and over 500 shelter bicycle lots and 1000 parking lots in the vicinity. On top of that, the upcoming NORTH-SOUTH Expressway (NSE) will compliment the improved accessibility from Yishun to other parts of Singapore.
Conveniences at your doorstep:
NORTH PARK RESIDENCES comfort living is the utmost importance. You can experience and enjoy the luxury and a beautiful home at the end of each busy day. Self-contained lifestyle in Northpoint City and being the Biggest Shopping Mall, everything is within your reach.
---
Category
Detail Amenities Nearby
Approx Distance
Train Stations

Yishun(NS13) Khatib (NS14)

0.1km 0.9km

Bus Stop
Aft Northpoint (Bus: 169, 804, 806, 856, 858, 859, 965, 969)
Yishun Station (Bus: 169, 858, 965, 969)
Yishun Interchange
0.1km
0.1km
0.1km
Supermarkets
Cold Storage
NTUC
Sheng Siong
Giant
0.1km
0.1km
0.1km
0.5km
Shopping Malls
Northpoint Shopping Centre
Yishun 10
Sembawang Shopping Centre
0.1km
0.1km
1.8km
Education Institutions
Preschool
PCF Nee Soon Central Blk 738
Iman Kindergarten (Yishun)
PCF Nee Soon East Blk 312
PCF Nee Soon East Blk 227
Kidszone Kindergarten
PCF Nee Soon St 61 Blk 646
First Step Montessori House
PCF Chong Pang Blk 107
PCF Nee Soon Central Blk 367
PCF Nee Soon East Blk 408
0.3km
0.3km
0.7km
0.7km
0.8km
0.8km
0.8km
1.1km
1.1km
1.4km
Primary
Peixin Primary School
Jiemin Primary School
Ahmad Ibrahim Primary School
Yishun Primary School
Huamin Primary School
Northland Primary School
Chongfu Primary School
Peiying Primary School
Naval Base Primary School
North View Primary School
0.6km
0.6km
0.6km
1.0km
1.0km
1.0km
1.2km
1.3km
1.4km
1.5km
Secondary
Yishun Town Secondary School
Yishun Secondary School
Northland Secondary School
North View Secondary School
Ahmad Ibrahim Secondary School
Chung Cheng High School (Yishun)
Naval Base Secondary School
Northbrooks Secondary School
Orchid Park Secondary School
0.5km
0.7km
1.0km
1.0km
1.0km
1.1km
1.2km
1.3km
1.5km
Food Centre
Chong Pang Market & Food Centre
Yishun Food Centre (U/C)
0.9km
1.0km
Lifestyle
Yishun Town Park
Nee Soon Central Community Park
Yishun Park
SAFRA Yishun
Yishun Neighbourhood Park
Yishun Stadium
Bottle Tree Park
Orchid Country Club
Lower Seletar Reservoir Park
0.1km
0.3km
0.7km
0.8km
1.0km
1.7km
1.9km
2.0km
2.0km
GENERAL FACILITIES
Barbeque Pit/ Pavilion
Dining Lounge
Outdoor Fitness
25M up Lap Pool
Gym
Family Pool
Children PlayGround
Function Rm/Hall
Tennis Court
Steam Room
Clubhouse
24 HRS Security
Spa/ Hydro Pool
Shops in Condo